2017 Art Grant Recipients
In 2017 we funded $6,100 in art. Check out the below recipients below!
Inner Earth – Effigy
Trash Fence Crew
Legend says that it is not accessible from boat or path.  Blocked by mountains and only accessible from Middle Earth.
Metéora – Temple
Calabra
A sanctuary of light and depth in the darkest of nights,
We find solace in the representation of the natural world.
A beacon of hope and strength, fissures of light
guide the way, Formations of fractured geometry rising from the earth.
Animals
Tamara Moskaliuk
What will you see in the dark?
Dr. Seuss Drum-Bike
Bikeartley
If you could imagine a 15 foot long, 10 foot high Dr. Suess 2-person bike that allows up to 20 people to drum on it while it is pedalled along, then you're halfway there. Now imagine a DJ booth on the bike that is powered by anyone with a regular bicycles and you get the idea.
Scarecrows
IT2SP – Tamara & Jesse
Rumor has it Daft Punk is playing at the trash fence!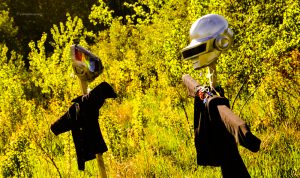 Heavy Meta
Heavy Meta Collective
As the world slouches toward authoritarian despotism, a terrifying shadow emerges in the distance. Is this the leviathan, you wonder, the terrible beast foretold in the Book of Job? Nay, it is a mechanical, fire-breathing dragon, towering 19 feet above your head, and appearing at least 30 feet long, with jagged, scrap metal scales. Its mouth opens, and large flame nearly engulfs you. Then you hear the bass of the roving party. Hop on!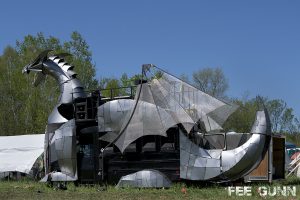 The Metéoran Pillars
Calabra
Midnight Poutine's Robot Pie Poofer
Arno Robin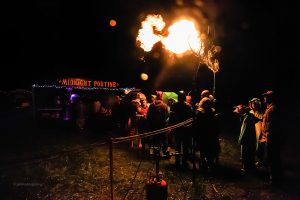 The Hyperborea Huggery
Sparkles
Stop by and check out the menu! We'll be serving up a few classics and some fancy new options such as: The Bear Hug, The Hand Hug, The Bro Hug, The Running Hug and more. Make sure you don't miss happy hour!
Arianrhod
Frolick Theater and Shlosart
Weaving plains of cosmic webs and spinning the loom of fate is Aria the Crocheting Mother- Weaving Spider. Arianrhod takes us back to long-lost times of Celts and Druids that once inhabited the lands of the Hyperborean realm. She is the goddess of the silver wheel, spinner of fate and archetypal Mother that represents both good and evil aspects of our human collective and reminds us of an ancient matriarchal aspect that calls to balance our patriarchal collective mind.
Choice and Consent Posters
DoctorSinful
Promoting a culture of consent and choice while educating people about Safer Sex, and interacting in a kind and loving way with each other.
Hyperion
Peter Dilworth + Phillipa Gill
Hyperion is an interactive LED column that displays a variety of patterns, colors, and effects.
Fairy Village Architects
Amanda Shankland
Unleash the imagination of your inner child by building a miniature fairy village with sticks, mud, leaves, moss and other materials we find on the forest floor. We will also have fairy colouring books, paint and other art supplies to draw pictures of the fairies and write stories about the fairies and other creatures that might come to stay in the village.
Hyper Cube
Kyle White
The Hyper Cube has landed at Hyperborea! Look for it high up in the trees lighting up the forest and guiding your path. Seek it out for a mesmerizing time or a short distraction from the many quests abound around the grounds.
The Hippie Slippie
The Department of Oily Mischief
200 feet of delightfully dirty and daring descents.
Reactor
Intergalactic Garden Supply
A twisting steel and light sculpture depicting a relationship between nature and technology.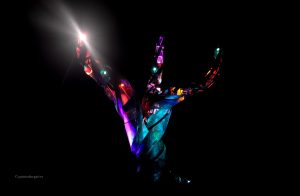 The Altar
Mike Everson & Trish Lamanna
Exploring the uncharted lands of Hyperborea you notice a strange glow in the darkness. As you approach you are able to discern what appears to be a large cat peering into you with its glowing eyes. You realize you're standing in what appears to be some sort of wizard's study. Illuminated by candlelight, you see an altar decorated with arcane markings of eldritch design. You are approached by a robed figure you hadn't noticed, gesturing silently towards the altar as though urging you to present some kind of offering.
Will you attempt to invoke the favour of this unknown deity? Or do you fear you will only incur its ire?
The Coat Rack
Seth Hardy
An eight headed flame effect that holds coats when it's not shooting fire.